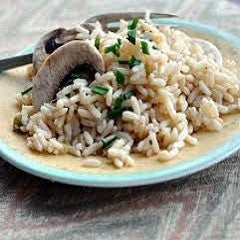 ---
Ingredients:
1 pkg center cut bacon
4 tbsp butter
1 small onion, diced
6 cups beef consomme
3 tbsp soy sauce
4 cups of rice
1 1/2 tsp salt
Procedure:
Fry the bacon until fully cooked. Add the butter and onion and sauté until translucent. Add consomme and soy sauce and bring to a boil. Add rice and salt. Stir. Wait until all liquid has evaporated. Reduce heat, cover and simmer until rice is tender.
---
Share this Product
---
More from this collection
Liquid error (layout/theme line 443): Could not find asset snippets/spurit_uev-theme-snippet.liquid