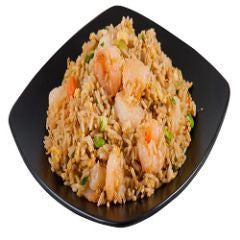 Fried Rice, Arroz Frito Recipe
---
Ingredients:
3 cups cooked white rice

1/4 cup cooking oil

3 tbsp annato seeds

1 1/2 cups cubed cooked pork

6 sliced green olives

1 15oz can pigeon peas, drained and rinsed

2 tbsp roasted sweet red peppers, minced

1 tsp garlic powder

1 1/2 tsp adobo seasoning

1/2 tsp ground black pepper

2 sprigs fresh cilantro, for garnish
Procedure:
Have all of the ingredients ready to add to your pan before you start. Heat 1/4 cup of oil  over low heat until it is hot, add 3 tbsp of annato seeds, and stir, for one minute. Let this cool, stirring occasionally, strain when it is cool. Preheat a non-stick pan or wok, over high heat for one minute. Add the strained oil, heat for 30 seconds. Add the pork, and toss it in the hot oil for 30-45 seconds. Add the pigeon peas, the olives, and the peppers, toss for 45-60 seconds. Add the rice, garlic, adobo, and the black pepper. Toss and mix, coating all of the rice with the oil, and breaking up any clumps of rice. Continue tossing it until it is heated through. Serve and garnish with a fresh sprig of cilantro.
---
Share this Product
---
More from this collection
Liquid error (layout/theme line 443): Could not find asset snippets/spurit_uev-theme-snippet.liquid