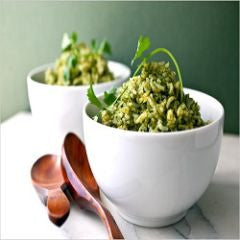 Green Rice, Arroz Verde Recipe
---
Ingredients:
6 large tomatillos

2 tbsp water

1/3 cup minced fresh cilantro

4 tsp minced seeded jalapeno peppers

1/2 tsp salt

1 clove garlic, minced

1 1/4 cups uncooked long grain rice
Procedure:
Discard husks and stems from the tomatillos. Cook the tomatillos in boiling water in a medium saucepan for 4 minutes or until soft, drain. Combine the tomatillos and 2 tsp water in a blender and process until smooth. Pour the tomatillo mixture into a 4 cup glass measure, and add enough water to mixture to measure 2 1/2 cups. Combine the tomatillo mixture, cilantro, jalapeno, salt and garlic in a saucepan, and bring to a boil. Add rice, cover mixture, reduce heat, and simmer 20 minutes or until liquid is absorbed. Remove from heat, and turn the rice using the large spoon.

---
Share this Product
---
More from this collection
Liquid error (layout/theme line 443): Could not find asset snippets/spurit_uev-theme-snippet.liquid