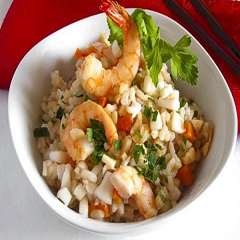 Rice with Langostinos Recipe
---
Ingredients:
12 langostinos peeled and deveined (reserve shells)

Salt to taste

Pepper to taste

2 tbsp olive oil

1 1/2 cup diced red peppers

1/2 red onion, diced

1 1/2 tbsp ground garlic

1 tbsp tomato paste

1 1/2 tbsp smoked paprika

1/2  cup white wine

3 cups fish broth

Chopped fresh cilantro

Lemon to taste

2 cups cooked white rice
Procedure:
Season the langostinos with salt and pepper to taste and in a frying pan add olive oil and saute the langostinos for 2 min, remove and reserve. In the same pan fry the peppers, onion and garlic for 3 min, then add the tomato paste and paprika and sauté for 1 min. Add the wine and reduce by half, add the broth and let the preparation simmer on low for approx 12 min and finish with fresh cilantro and lemon, add a pinch of salt and return the prawns to the preparation serve or mix with white rice.
---
Share this Product
---
More from this collection
Liquid error (layout/theme line 443): Could not find asset snippets/spurit_uev-theme-snippet.liquid