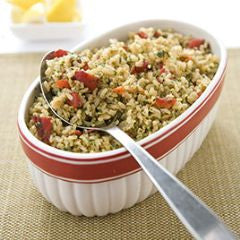 Rice with Onions, Arroz con Cebolla Recipe
---
Ingredients:
2 cups white rice

1 can onion soup

1 can of beer

two slices of bacon, cut in small pieces

1 large white onion, cut in small pieces

1 tsp of salt

1 cup spanish red peppers
Procedure:
Fry the bacon and the onion over medium heat in the pot where you will cook the rice. Stir occasionally to keep the bacon and onion from sticking to the pot. Add the beer and the onion soup. Carefully add the rice and the salt, stir and bring to boil over high heat, cook until the liquid evaporates. Stir again, reduce heat to low and cook covered for 20 to 25 minutes. Decorate with the spanish red peppers.

---
Share this Product
---
More from this collection
Liquid error (layout/theme line 443): Could not find asset snippets/spurit_uev-theme-snippet.liquid