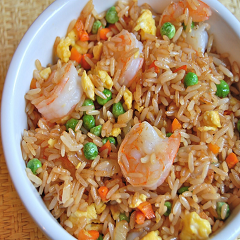 Shrimp with Fried Rice Recipe
---
Ingredients:
1 lb shrimp peeled and deveined

Salt to taste

Pepper to taste

3 tbsp peanut oil

1 small red onion sliced

1/4 head thinly sliced ​​chinese cabbage

1/2 cup green peas

1 tbsp ground garlic

1 tbsp grated ginger

3 eggs beaten

3 cups long grain cooked rice

3 tbsp soy sauce

4 sliced ​​chives

Toasted peanut to decorate
Procedure:
Season the shrimp with salt and pepper, in a deep frying pan add peanut oil, stirring the shrimp, add the onion, cabbage, green peas, garlic and ginger, saute for 2 min. And remove from the pan. In the same skillet, cook the beaten eggs by mixing constantly, break into small pieces and then add the rice, return the shrimp and vegetables to the preparation, add the soy sauce, mix well and finish with chives and toasted peanuts.
---
Share this Product
---
More from this collection
Liquid error (layout/theme line 443): Could not find asset snippets/spurit_uev-theme-snippet.liquid