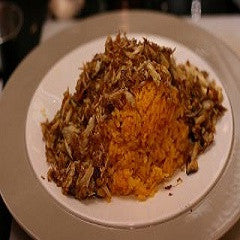 Yellow Rice and Crabmeat Recipe
---
Ingredients:
2 tbsp annatto oil

1 tbsp corn oil 

1 lb crabmeat

3 tbsp recaito

3 tbsp manzanilla olives, chopped

1/2 cup tomato sauce

3 cups long rice 

4 cups water or chicken stock 

Salt to taste
Procedure:
Heat the annatto oil and corn oil in a saucepan or caldero. Saute the crabmeat, recaito, olives and tomato sauce for about 4 minutes. Add the rice, water, salt and stir to combine. Bring to a boil, cook until the water has just about cooked out. Stir again, cover and reduce heat to low and cook for 20 to 25 minutes. Stir again, and serve.
---
Share this Product
---
More from this collection
Liquid error (layout/theme line 443): Could not find asset snippets/spurit_uev-theme-snippet.liquid