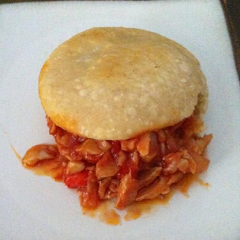 Bacalao, Codfish with Arepas Recipe
---
Ingredients:
2 1/2 cup milk

1 tbsp butter

1 1/2 cup arepa dough
1/2 cup shredded bacon cheese
Salt to taste
Pepper to taste

1 tbsp 

honey
3 tbsp olive oil

1 small red onion in thin squares

1 tbsp ground garlic

1/2 cup white wine

4 cod fillets desalted and shredded

1/2 cup fish broth 
1/4 cup cream
1 lemon juice

Fresh herbs to taste
Procedure:
Dough: Heat the milk in a saucepan, remove from the heat and add the butter, in another container mix the arepas dough, cheese, salt and pepper, then add the milk and honey to the flour and mix until well incorporated. Let stand for 5 min. Then form balls with dough and flatten with hand. Fry the arepas in a frying pan with a little oil on both sides until golden. Cod: In a frying pan with a little olive oil sauté the onion and garlic then add the white wine and cut in half, add the cod, broth and cream and cook slowly for 15-18 min. Then add lemon and herbs.
---
Share this Product
---
More from this collection
Liquid error (layout/theme line 443): Could not find asset snippets/spurit_uev-theme-snippet.liquid