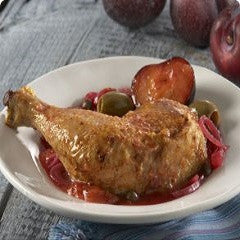 ---
Ingredients:
1 whole chicken (cut into quarters)
5 cloves garlic, minced
2 tsp oregano
1 tsp salt
1/2 tsp ground pepper
1 tbsp white vinegar
12 pitted green olives
1 tbsp capers
1 large onion, sliced into rings
1 bay leaf
6 large plums, pitted, halved
1 cup water
1/2 cup dry white wine
1/4 cup granulted sugar
Procedure:
Combine mixture of garlic, oregano, salt, pepper, vinegar, olives and capers in a small bowl. Place chicken in a container and spread mixture over chicken. Top with onions. Cover and marinate in the refrigerator at least 4 hours. Place chicken with marinade, bay leaf, plums and water in a large pot. Bring to a boil. Cover tightly. Reduce heat and cook on medium heat 45 minutes. Add wine and sugar. Cover and cook 15 minutes or until chicken is fully cooked.
---
Share this Product
---
More from this collection
Liquid error (layout/theme line 443): Could not find asset snippets/spurit_uev-theme-snippet.liquid