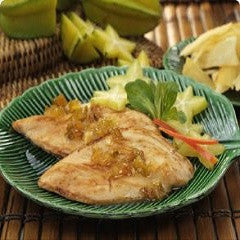 ---
Ingredients:
4 chicken breasts, thin-sliced
Salt to taste
Pepper to taste
1/4 cup vegetable oil
2 cups chopped carambolo (star fruit)
1 cup white sugar
2 tbsp lime juice
1 tbsp grated ginger
1 tbsp butter
1 tbsp cornstarch (optional)
2 cassavas (Yucca)
Oil for frying
Procedure:
Season the chicken with salt and pepper. Set aside in refrigerator. Heat carambolo, sugar, and lime in a saucepan. Cook until slightly reduced. Add the ginger and cook for 5 minutes. Add butter. Cook 5 more minutes. If the sauce is not thick enough, thicken it with cornstarch dissolved in water. In a separate frying pan, add oil and brown chicken fillets on both sides. Serve the chicken and pour the prepared carambolo sauce over it. Cut yucca (cassava) in to very thin slices. Heat oil and fry the slices until crispy.
---
Share this Product
---
More from this collection
Liquid error (layout/theme line 443): Could not find asset snippets/spurit_uev-theme-snippet.liquid