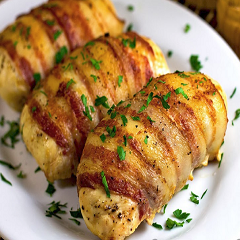 Chicken Breast Stuffed with Mangu Recipe
---
Ingredients:
2 chicken breasts

10 slices of bacon

3/4 cup olive oil

1/2 onion cut into thin strips

1 tbsp minced garlic

1 ripe banana boiled and mashed

1/2 cup guava paste

1 1/2 cup of water

1/2 cup brown sugar

1 cinnamon stick

Salt to taste

Pepper to taste
Procedure:
In a small pan add olive oil and sauté the onion and garlic, leave on medium low heat for 15 minutes, season with salt and pepper to taste and let it cool. In a container mix this preparation with the ripe banana (mangu). With the knife open the breasts like a book and season with salt and pepper. Place the chicken breast on top of the bacon strips, add mangu in the center, and roll up covering the sides. Wrap the stuffed breast in tight plastic wrap and cook in a saucepan with water or broth over low heat, cover and cook for 25 minutes. Once ready, remove the plastic and brown in a frying pan. In a frying pan, place the guava paste, water, sugar and cinnamon, dissolve the pasta well, and remove the cinnamon. Slice the breast, pour sauce on it and serve with green salad.
---
Share this Product
---
More from this collection
Liquid error (layout/theme line 443): Could not find asset snippets/spurit_uev-theme-snippet.liquid