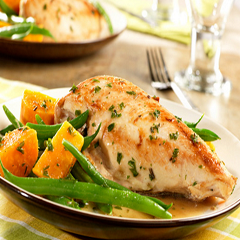 Chicken Breast with Sweet & Sour Vegetables Recipe
---
Ingredients:
4 chicken breasts

1 cup Welch's Grape Juice

1/4 cup soy sauce

1/2 cup brown sugar

1 slice fresh ginger

1 clove of crushed garlic

1 sliced ​​onion

1 eggplant

1 zuchinni

1 yellow zucchini

1 green pepper

1 red pepper

1 red onion

Garlic at taste

Rosemary to taste

Salt to taste

Pepper to taste

Olive oil to taste
Procedure:
Season the breasts with salt and pepper and cook in a frying pan with olive oil for approx. 6-8 minutes per side. In a saucepan place the juice, soy, sugar, ginger, garlic and boil over medium heat until a consistency of syrup. In a tray with baking paper place the vegetables evenly cut, season with salt, pepper, garlic, rosemary and olive oil, mix well and bake at 375 degrees for approx. 35 minutes. Pour the syrup mix on chicken and vegetables and serve.
---
Share this Product
---
More from this collection
Liquid error (layout/theme line 443): Could not find asset snippets/spurit_uev-theme-snippet.liquid