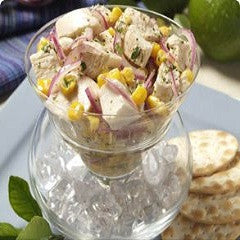 ---
Ingredients:
4 chicken breasts
1/4 cup vegetable oil
1 small red onion, 

julienned

1/2 cup lime juice
1 cup cilantro, finely chopped
1 cup tender corn
Hot pepper to taste
Sal to taste
Pepper to taste
Procedure:
In a frying pan heat oil and brown chicken breasts on both sides. Dice chicken into small cubes. Mix onion, lime juice, chopped cilantro, tender corn, hot pepper, salt and pepper. Pour mixture over chicken.
---
Share this Product
---
More from this collection
Liquid error (layout/theme line 443): Could not find asset snippets/spurit_uev-theme-snippet.liquid