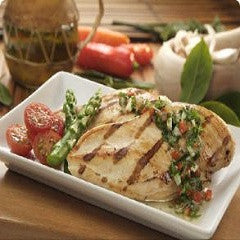 Chicken Chimichurri Recipe
---
Ingredients:
6 chicken breasts, thin-sliced
1/4 cup oil
Salt to taste
Pepper to taste
Chimichurri Sauce:
1/2 cup oil
1 cup warm water
1/4 cup vinegar
1 small hot pepper, finely chopped
1 white onion, finely chopped
1 tbsp parsley, finely chopped
3 cloves garlic, minced
1 tsp black pepper
1 tsp sweet red pepper, ground
2 bay leaves, chopped
1 tsp oregano
Salt to taste
Pepper to taste
Procedure:
Season chicken with 1/4 cup of oil, salt and pepper. Mix all the chimichurri ingredients and set aside in a covered glass bowl. Let it sit for 12 hours, mixing occasionally. In a saucepan or on a grill, brown the chicken breasts on both sides. Spoon the chimichurri on top of the chicken and serve. 
---
Share this Product
---
More from this collection
Liquid error (layout/theme line 443): Could not find asset snippets/spurit_uev-theme-snippet.liquid