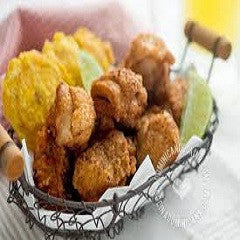 Chicken Cracklings, Chicharrones de Pollo Recipe
---
Ingredients:
3 1/2 lb chicken, cut in small pieces

Adobo to taste

3 garlic cloves, peeled and chopped

1/2 cup golden rum or brandy

Juice of 3 lemons 

1 cup all-purpose flour

2 tsp salt 

2 tsp black pepper

1/4 cup corn oil
Procedure:

Sprinkle the chicken with adobo. Marinate in the rum and lemon juice for 30 minutes. Drain. In a plastic bag, combine the flour with the salt and pepper and dredge the chicken pieces, shaking off the excess. Heat the oil in a large skillet until hot but not smoking and fry the chicken pieces, a few at a time, until all sides are golden brown. Serve at once. 
---
Share this Product
---
More from this collection
Liquid error (layout/theme line 443): Could not find asset snippets/spurit_uev-theme-snippet.liquid