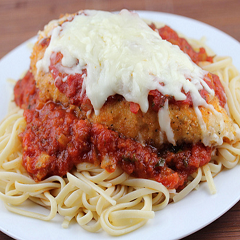 Chicken Empanada with Pasta Recipe
---
Ingredients:
4 chicken breasts

Salt to taste

Pepper to taste

1 cup of flour

2 eggs beaten

1 cup panko (Japanese ground bread)

1 cup marinara sauce

2 cups grated mozzarella cheese

1 cup parmesan cheese

1/2 lb angel hair pasta

1/2 red onion in small squares

1 tbsp minced garlic

Parsley to taste
Cilantro to taste
Basil to taste
Procedure:
Slice the chicken breast in half, season with salt and pepper and pass through flour, egg and panko. Fry the breasts in vegetable oil for approx. 2-3 minutes per side, drain on absorbent paper and then place on a baking sheet, pour marinara sauce over the chicken, add mozzarella and parmesan cheese above and take to the oven in broil to melt and brown the same. Boil the pasta in boiling salted water until al dente, in a frying pan with olive oil saute the onion and garlic for 2 minutes add the pasta and finish with parsley, cilantro and basil to taste. Top with parmesan cheese.
---
Share this Product
---
More from this collection
Liquid error (layout/theme line 443): Could not find asset snippets/spurit_uev-theme-snippet.liquid