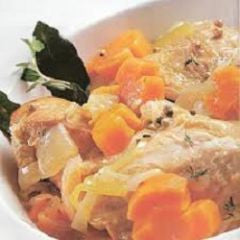 ---
Ingredients:
2 lbs chicken breasts, cut into pieces and lightly pounded flat
Adobo seasoning to taste
3/4 cup olive oil
1 medium red onion, sliced
1 yellow bell pepper, 

julienned

3 garlic cloves, peeled and chopped
2 oranges, juice 
2 limes, juice 
2 lemons, juice 
3 tbsp honey
3 tbsp capers (to garnish)
Procedure:
Season the chicken with the adobo. Heat 1/4 cup of the oil in a large skillet and saute the chicken over medium-high heat until lightly browned. Let it cool. In another pan, heat 1/4 cup of the oil and saute the onion, pepper, and garlic until soft. Add the onion mixture to the chicken. Combine the juices, remaining 1/4 cup oil, and honey. Pour over the chicken and toss. Garnish with capers.
---
Share this Product
---
More from this collection
Liquid error (layout/theme line 443): Could not find asset snippets/spurit_uev-theme-snippet.liquid