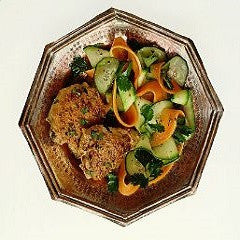 ---
Ingredients:
3 chicken breasts, split in half 
Salt to taste
Peppert to taste
1 tsp chopped fresh basil 
2 cups papaya juice 
1-1/4 cups light olive oil 
1 fresh ripe papaya, peeled and cut into slices, for garnish
Procedure:
Season the chicken with the salt and pepper. Mix the basil and the juice with 1 cup of the oil and pour it over the chicken. Marinate for at least 1 hour. Drain the meat and discard the marinade. Heat the remaining oil in a skillet over medium-high heat. Quickly sear the chicken on both sides. Lower the heat and cook, partially covered, for 15 minutes, turning the meat once. Serve and garnish with fresh papaya slices.
---
Share this Product
---
More from this collection
Liquid error (layout/theme line 443): Could not find asset snippets/spurit_uev-theme-snippet.liquid