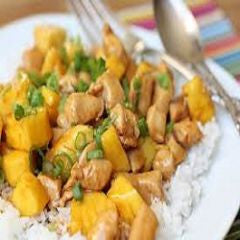 ---
Ingredients:
8 chicken breast halves
1/2 medium ripe pineapple
2 jalapeno chiles, seeded
2 garlic cloves, minced
1 cup pineapple juice
1/2 cup lime juice
1/4 cup cilantro
1 tsp lime zest
Salt to taste
Pepper to taste
2 tbsp honey
Procedure:
Puree pineapple, jalapenos and garlic in a blender until almost smooth. Add pineapple juice, lime juice, cilantro, and lime zest and process until blended. Pour marinade into a large glass baking dish. Add chicken to coat. Cover and refrigerate 4-6 hours. Remove chicken from marinade. Season with salt and pepper. Pour 1/2 cup marinade into a small bowl. Whisk in honey. Brush mixture over chicken. Broil until cooked through, basting frequently, about 30 minutes.
---
Share this Product
---
More from this collection
Liquid error (layout/theme line 443): Could not find asset snippets/spurit_uev-theme-snippet.liquid