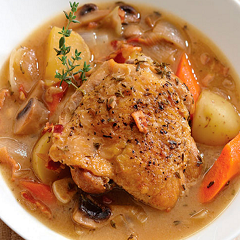 Chicken Thighs in Wine Recipe
---
Ingredients:
8 chicken tighs

Salt to taste
Pepper to taste
Cumin to taste
4 tbsp olive oil

1 cup diced onion

1/2 cup diced carrot

1/2 cup celery

4 cloves garlic minced

2 tbsp tomato paste

1/2 bottle of red wine

1/2 cup chicken broth

2 bay leaf

4 sprigs of fresh thyme

1/2 cup finely chopped fresh parsley
Procedure:
Season chicken thighs with salt, pepper and cumin. Heat the olive oil in a saucepan and cook the thighs until golden brown. Add vegetables (onion, carrot, celery, garlic) Sauté for 2 minutes and add the tomato paste, saute for one more minute. Add wine and boil for 1 minute. Add the chicken broth, bay leaf, thyme, and lower the heat. You should get a slow bubbling and keep it during all the cooking. Let it simmer for 45 minutes, then remove the bay leaf and thyme and add the fresh parsley. Add salt and pepper to taste. 
---
Share this Product
---
More from this collection
Liquid error (layout/theme line 443): Could not find asset snippets/spurit_uev-theme-snippet.liquid