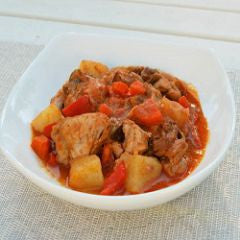 Chicken Tomato Pepper Recipe
---
Ingredients:
4 chicken breast
2 tbsp olive oil
Salt to taste
Pepper to taste
Adobo seasoning to taste
1 onion
1 red bell pepper
3 garlic cloves, finely chopped
1 tsp cumin
1 bay leaf
1/2 lb small red potato, halved
8 oz tomato sauce, spanish stlye
1 cup water
1/4 cup cilantro, chopped
Procedure:
Season chicken with adobo, salt and pepper. Heat olive oil over medium heat. Add chicken to skillet, cook turning once, until browned, about 5 minutes, transfer to plate. Keep leftover oil in the pan. Using food processor, puree the onion and red pepper. Add to the skillet along with the garlic. Add cumin and bay leaf. Increase heat to medium high and stir in potatoes, tomato sauce and 1 cup water. Lower heat, cover and simmer for 10 minutes. Add the chicken, cover and simmer, stirring occasionaly until the chicken is cooked through, about 20 to 30 minutes. Discard bay leaf. Top with cilantro.
---
Share this Product
---
More from this collection
Liquid error (layout/theme line 443): Could not find asset snippets/spurit_uev-theme-snippet.liquid