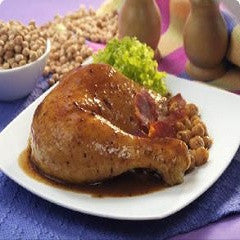 Chicken with Chickpeas and Sausage Recipe
---
Ingredients:
1 whole chicken
Salt to taste
Pepper to taste
1/2 cup vegetable oil
2 cups plum sauce
1 cup muscatel wine
1 cup chicken broth
1 cup cooked chickpeas
1/2 cup sliced sausage
Procedure:

Separate chicken into pieces. Season pieces with salt and pepper. In a pan heat oil and brown chicken on all sides. Place chicken in an oven safe dish. Mix plum sauce, wine and broth and pour over chicken. Add chickpeas and decorate with the sausage on top. Bake at 325° F for 40 minutes.
---
Share this Product
---
More from this collection
Liquid error (layout/theme line 443): Could not find asset snippets/spurit_uev-theme-snippet.liquid