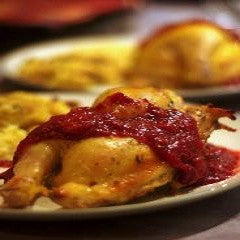 Cornish Hens in Tamarind Sauce Recipe
---
Ingredients:
3 Cornish hens
Adobo seansoning to taste 
2 tbsp light olive oil 
4 garlic cloves, peeled and chopped 
1 cup sliced fresh mushrooms 
1 cup tamarind pulp 
1 cup chicken stock 
2 tbsp sugar 
1 tbsp cornstarch 
3 tbsp chopped cilantro for garnish
3 tbsp scallion for garnish
Procedure:

Preheat the oven to 350 F.  Season the cornish with adobo and bake for 30 minutes. While the hens are baking, heat the oil in a skillet and saute the garlic and mushrooms for 5 minutes over medium heat. Set aside. In a blender. combine the tamarind pulp, chicken stock, and sugar. Set 1/2 cup of the liquid aside and dissolve the cornstarch in it. Bring the remaining liquid to a boil. Remove the pan from the heat and mix a small amount with the reserved cornstarch mixture. Pour all liquid back into the pan, put the pan back on the stove, and cook over medium-low heat until the sauce is thick. Add the mushrooms and set aside. When the hens are done, cut each in half and pour sauce over it. Garnish with cilantro and scallion.
---
Share this Product
---
More from this collection
Liquid error (layout/theme line 443): Could not find asset snippets/spurit_uev-theme-snippet.liquid