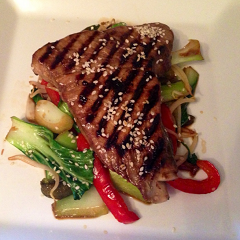 ---
Ingredients:
1/2 lb soba noodles

3 tbsp olive oil

2 tbsp of oriental sofrito (garlic, ginger and chives)

1/2 red pepper cut into strips

1/2 green pepper cut into strips

4 shitake mushrooms in strips

1/2 zucchini in strips

Soy sauce to taste

Cilantro fresh to taste

2 fresh tuna fillets

Salt to taste

Pepper to taste
Procedure:
Cook the noodles in boiling salted water for approx. 12 min. In a wok style pan, heat  olive oil and sauté the sofrito, peppers, mushrooms and zucchini, once cooked add the noodles to the preparation and season to taste with soy sauce and fresh cilantro. Season tuna with salt and pepper and cook over high heat for approx. 3 min. on each side or until they are well browned, remember to serve with the pink center. Serve tuna over noodles.
---
Share this Product
---
More from this collection
Liquid error (layout/theme line 443): Could not find asset snippets/spurit_uev-theme-snippet.liquid