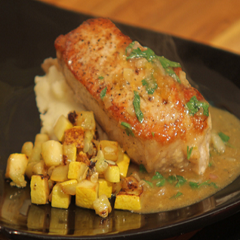 Pork Medallions with Peach Sauce Recipe
---
Ingredients:
4 pork medallions
Salt to taste
Pepper to taste
Cummin to taste
3 tbsp olive oil
1 red onion cut into thin squares
1 tbsp ground garlic
1/2 cup white wine
2 tbsp dijon mustard
3/4 cup peach marmalade
Procedure:
Preheat oven to 350 degrees. Season the medallions with salt, pepper and cumin and cook in a frying pan with olive oil for approx. 3 minutes per side and finish cooking in the oven for 15-18 minutes more. Once the meat is ready, remove from the pan and let it rest, in the same pan sauté the red onion, garlic and add the wine, reduce in half and add the mustard and marmalade. Boil the sauce for 3-4 minutes and season to taste with salt and pepper. Pour the mixture over the medallions.
---
Share this Product
---
More from this collection
Liquid error (layout/theme line 443): Could not find asset snippets/spurit_uev-theme-snippet.liquid