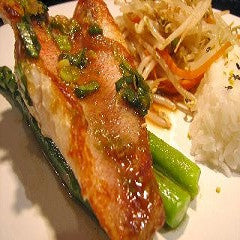 Red Snapper with Coconut Sauce Recipe
---
Ingredients:
4 red snapper fillets
1 lime juice
2 tbsp olive oil
6 cloves garlic, minced
1 medium white onion, julienne
1 celery shaft, julienne
1 tbsp tomato sauce
2 cans coconut milk
1 chicken bouillon
2 bay leaves
1 ripe tomato, sliced in strips
2 cups cooked white rice
Procedure:
Sprinkle the fillets with the lime juice. In a skillet heat oil on medium, stir in garlic, onion, celery and sautee for 10 min. Stir in tomato paste and cook for 2 minutes. Stir in coconut milk, cubitos, and bay leaf. Bring to a boil and simmer on low for 10 minutes, stirring occasionally. Stir in sliced tomatoes. Add fillets, skin side up, gently pushing them into sauce. Simmer until fish is cooked. Serve over white rice.
---
Share this Product
---
More from this collection
Liquid error (layout/theme line 443): Could not find asset snippets/spurit_uev-theme-snippet.liquid