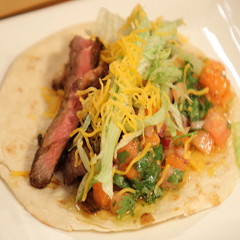 Steak Tacos with Papaya Recipe
---
Ingredients:
2 beef steak
Salt to taste
Peppet to taste
Olive oil to taste
Balsamic vinegar to taste
Ground garlic to taste
1 sliced ​​white onion
1 cup fresh papaya
1/2 cup diced tomatoes
1/2 red onion in small squares
1 tbsp ground garlic
Cilantro to taste
1 lemon's juice
Soft tacos
American lettuce
Cheddar Cheese
Procedure:
Season the steaks with salt and pepper, olive oil, balsamic vinegar, ground garlic and white onion. In a container mix the papaya, tomatoes, red onion, garlic, cilantro, lemon, olive oil to taste and salt and pepper. Once the meat has been marinating for at least 1 hour remove excess marinade and cook on an iron for approx. 4 to 5 minutes per side, also sauté the onion used to marinate the steak. Lightly toast the tacos and top with steak, papaya mix, lettuce and cheese.
---
Share this Product
---
More from this collection
Liquid error (layout/theme line 443): Could not find asset snippets/spurit_uev-theme-snippet.liquid