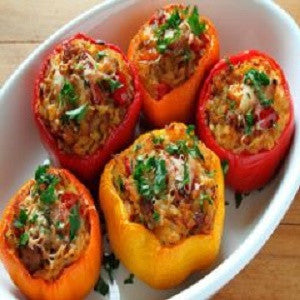 Stuffed Peppers, Pimientos Rellenos Recipe
---
Ingredients:
6 green bell peppers 

6 eggs

2 pounds ground beef  
2 tbsp adobo seasoning 
1 tbsp onion powder
1 tbsp garlic powder

3 tbsp parsley flakes

1 packet sazon goya with culantro and achiote
Procedure:

Preheat oven to 375°F. Cut circle whole and take out the inside (including seeds) of the peppers. In a mixing bowl, combine ground beef, adobo, onion powder, garlic powder, parsley flakes and sazon goya. Mix thoroughly until seasoning and meat is combine completely. With a spoon stuff ground beef into peppers, leaving some space. Put in oven tray and place in oven. Cook for 1hr 30 min. Add an egg for each green pepper without leting the yolk to break, Cook in broil for about 5 min or until the egg its done. Let stand before serving.
---
Share this Product
---
More from this collection
Liquid error (layout/theme line 443): Could not find asset snippets/spurit_uev-theme-snippet.liquid